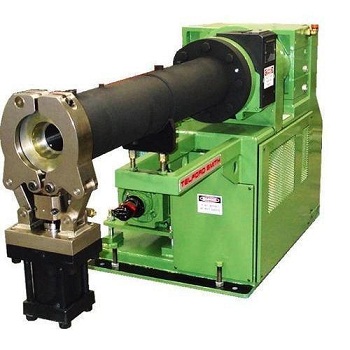 Rubber extrusion is a process that is used to produce rubber products. This process uses an extrusion machine to force synthetic or natural rubber material through a shape under high pressure. This process provides a shape to the workpiece in a soft and pliable state.
A hot feed rubber extruder machine is composed of two parts. First, a heated shearing screw pushes the raw material along with a conveyor as compounds are fed into an extruder. When the material moves along with a conveyor, it is heated to pliable. Second,the Shearing screw softens the material by huge pressure.
Benefits of a Rubber Extrusion Process
Rubber extrusion is an economical and efficient manufacturing process. The volume of wasted material in the extrusion process is minimal, and the production cost is lower when compared to another production method. In addition, rubber extrusion is a continuous process that can produce finished products of different lengths and shapes.
With the use of high-quality rubber and blending compounds, authentic hot feed rubber extruder machine manufacturers can produce high-quality rubber in different shapes. In addition, authentic manufacturers can create customised rubber and polymer products.
But this process should avoid harmful operation factors such as heat, cold, fatigue, friction, colour fade, and ageing. The skilled and advanced technology can provide standard and customised products that meet the requirement of the broad range of industrial applications.
The Usefulness of Rubber Extruded Products
Rubber extrusion is turning rubber materials into a specifically shaped product. To provide this shape,manufacturers use a rubber extruder machine. The raw rubber material is processed through the screw that pushes the stock while heated in the conveyor channel.
The common applications of rubber extruded are as follows-
1. For door and windows seals, rubber extruded has huge usefulness. This profile is designed to fill the gaps between door and door frames to prevent wind and water from entering a building. In cars and trucks, this method is very useful.
2. Rubber bumpers protect the hull and berthing infrastructure from damaging. Many service factors must be considered while deciding for various applications. Hot feed rubber extruder machine suppliers consider these factors perfectly.
Benefits of Rubber Extruded Products
The huge benefits of rubber extruded products are as follows-
1. Extruded rubber products are lightweight, flexible, long-lasting, and extremely durable.
2. These products are highly resistant to chemicals, heat, cold, fatigue, friction, abrasion wear, and tear.
3. These products are ideal for use in various or extreme conditions.
4. The volume of wasted material in this process is minimal.
5. It is an efficient and economical manufacturing process. Moreover, it is a process that can produce finished products of different lengths and shapes. One can benefit from rubber extrusion if they select an authentic hot feed rubber extruder machine exporter.
From the above information, one can understand the usefulness of selecting an authentic rubber extruder machine manufacturer. You can take the help of different online stores to choose the best quality rubber extrusion manufacturers at an affordable cost.