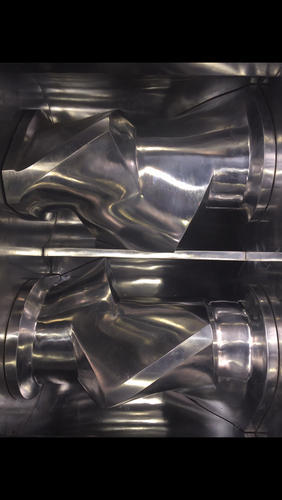 Rubber Dispersion Kneader Manufacturers decrease compound mixing time and boost mixer production to save costs.
Rubber Dispersion Kneader is particularly made for mixing different kinds of materials starting from low-viscosity glue to high-viscosity polymers. These flexible machines can be widely used in both the rubber and plastic industries. Dispersion kneader's rightly managed controls blending and mixing of raw stuff to form a uniform compound mixture making sure for better dispersion. The machine includes a mixing chamber built-in with rotary blades, prepared from top-grade steel. The raw material mixture takes place in the chamber and the blended compound is then cooled with the support of water. The mixing chamber includes a pneumatically or hydraulically controlled pressure lid, which assists to keep pressure on the raw material during integration.
What is the process of kneader work?
The Rubber Dispersion Kneader is a horizontal mixing machine with Z-type blades and even two Sigmas. The blades are motivated by different gears at various speeds, one running 1.5 times quickly as compared to the other. The reactor possesses one powerful motor and a speed reducer to drive the two blades.
Why rubber dispersion kneader is important?
Proper dispersion includes adding all the raw stuff in a rubber formulation into an informed and homogenous mix-up. Rubber elements are sometimes challenged to get better the largely dispersion quality and batch constancy, while concurrently finding ways to decrease compound mixing time and boost mixer production to save costs.
The dispersion of the quality can differ according to the equipment and the individual formulation. Meanwhile, there are common principles that can be applied to get the optimal level of dispersal at the most financial mixing conditions.
Dispersion has a direct outcome on and is projecting several physical properties in a rubber compound. The proper dispersion gives the constancy of properties within the same batch and the constancy of properties in the middle of the batches. It also forms a smooth and uniform surface look on finished parts.
Wrong dispersion can result in unwanted physical and mechanical properties, which include imperfections in product look, reduced service life, and poor division performance.
Several factors directly influence dispersion, including the rubber formulation, raw material excellence, raw material temperature, and the kinds of raw materials used. Equipment age and mixing setup mixing time, temperature, pressure, and rotor speed also play a significant role in dispersion and the kind of downstream tools and finishing capabilities.
Thus, it is beneficial for a rubber compounder to have as much control as possible over the whole mixing procedure. Within a climate-controlled facility, a plant-wide control system gives outstanding process control during compound mixing, getting better accuracy and constancy batch to batch.
It is a boon to medium as well as large rubber compounding needs, where excellent dispersion of frequently changing ingredients is a prime requirement. A time-saving system and labor gives an output three times or more as compared to an open mixing mill and considerably upgrades the excellence by bringing about far better results in mixing and kneading.