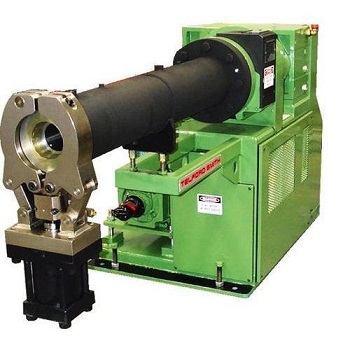 The rubber industry only had Hot Feed Extruders until the 1950s. Then the Cold Feed Extruders come with other variations you can see them today. Rubber extruders have a different field of application. So, when you get to know a rubber profile, strip, hose, wire, tire tread, cable, v-belt, tube, cord coating, or blank, remember that they are only a few handfuls of products manufactured using an extrusion process.
How makes Rubber Extrusion Work?
The rubber extrusion method starts with a rubber product fed into an extruder then is fed into a feed hopper, which takes the material and feeds it into different flutes in a rotating screw. The screw will start to carry the rubber forward into the die, increasing pressure and temperature as the material gets in touch into it to die itself.
As the material enters the die, the built-up pressure forces the material through the openings. It will gradually and consequently swell to different degrees based on the material compound and hardness. due of this tendency toward inflating, many extruded parts require plus or minus tolerances on their cross-sections. The extruded rubber product will swell or shrink in both its cross-section and length during vulcanisation, based on the category of rubber compound used.
After vulcanization, the length of rubber extrusion will tend to be reduced in dimension more in the centre of size than in the ends.
Rubber Extrusion Profits
There are many benefits to the rubber extrusion process, including:
Variety of shapes available
Efficient and economical
Flexible and lightweight products
Minimal waste
Salient Features Supplied By Hot Feed Rubber Extruder Machine Manufacturer
The extrusion is fitted with a two-stage helical gearbox in place of the worm reduction gearbox for attaining high efficiency.
Scroll & liners are manufactured of EN-41b, Nitra hardened and polished.
All extruders are equipped with different drive systems of siemens make. Barrels are fabricated of steel and, jacketed for heating and cooling with replaceable liners.
Feed rolls are specially designed for easy maintenance.
Feeding arrangement with spiral undercut and feed roll arrangement provided, which ensures a proper bite & strip fed to screw.
Common hot feed extruded rubber products include:
Hot Feed Rubber Extruder Machine Manufacturers offer machines with plain barrels tubes, slugs, bead covering, profiles, blanks, fuel tubes, apron-cots, and other extensive range of technical extrusions. Other products are
Connectors
Tubing
Mandrel formed hoses
Door, cabinet and window seals
Vibration reducers
Gaskets
Spliced gaskets
Window seals for mass transit
Pressure switch square tubing
Why should you buy the product from a leading online hot feed rubber extruder supplier?
Leading Hot Feed Rubber Extruder Machine Suppliers are engaged in giving premium quality products and a great array of Hot and Cold Feed Rubber Extruder in the market. They are a well-known Hot Feed rubber extruder machine manufacturer and are widely famous for the quality of the machines that we sell. Their range of products replaces the machines sold by other companies because we use good quality parts while manufacturing. They have trained and skilled engineers who are always at your service. They also customise machines as per the needs and requirements of the clients and customers.
They only sell authenticated machines that will make your work easier. They are low maintenance and cost-effective machines that save your money and time.